Welcome, dodgedemon.net was built for enthusiasts and owners of both classic and modern Dodge Demon cars. Our site includes Featured Rides, Information, Links, Photos, Production Numbers, Screensavers, Specifications, Wallpapers and more.
Online since 2010, we built this site to cover the 1971 – 1972 Dodge Demon and 2018 Dodge Challenger SRT Demon.
Featured Dodge Demon's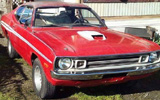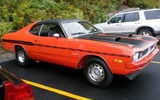 Own a classic or modern Dodge Demon? We are always looking for Demons to add to this site. To participate you must own a Dodge Demon.  to get yours included Submit Or Update Your Dodge Demon.
About The Dodge Demon:
Dodge added the Demon to the Dart lineup in 1971. The Demon was built on the a-body platform and shared bodies with the Plymouth Duster. Featuring a 108″ wheelbase and a two-door fastback design the Demon was offered in two trims, the base Demon and Demon 340. Dodge would rename the Demon the Dart Sport for 1973 and the 340 version became the Dart sport 340.
In 2007 Dodge reused the Demon name on a concept, The vehicle was shown for the first time at the 77th International Motor Show in Geneva 2007. The concept was a small sporty roadster, but was never put into production.
Unleash the beast, 2018 would put Dodge and the Demon name in the history books. The Challenger SRT Demon was a limited production hot rod powered by a 840 horsepower supercharged HEMI engine. The end result was the most-powerful muscle car ever produced by Dodge.
For more information on these cool Mopars visit our information section.